Welcome to
Ratna Vajra Vatika
Escape to the serenity of Ratna Vajra Vatika, a family-run boutique resort located in Tinchulay, Takdah. Nestled in the midst of a pine and oak forest, this eco-friendly resort offers off-beat experiences surrounded by breathtaking natural beauty with a cozy and comfortable stay.
Located snugly in the heart of a lush green forest of the Teenchulay hills in Takdah, Ratna Vajra Vatika is your perfect getaway home. Ratna Vajra Vatika offers you uncompromising comfort and luxury during your stay, while you experience the scintillating beauty and grandeur of our hills.
Meals
Tasty, fresh, and delicious meals are hygienically prepared for our guests. Prices for all meals and snacks are included in your booking price.
Cozy & spacious rooms
All our rooms have great views out their windows, are airy and spacious, are well lit, maintained meticulously, and come with all the amenities you can expect.
Transportation facilities
We provide transportation facilities as an optional to our guests for sightseeing, airport/railway station pickups/drops, or A-B transportation as well.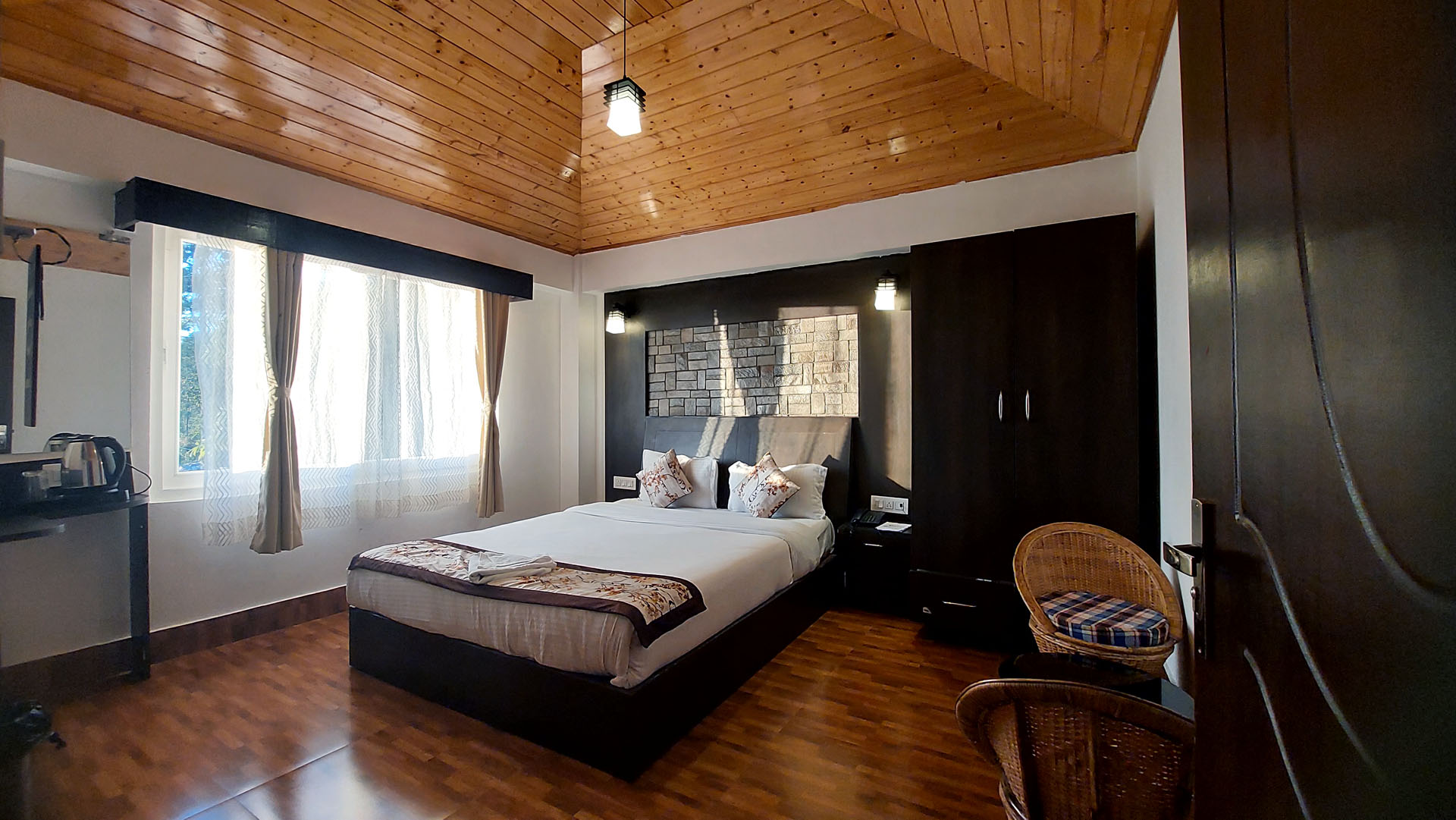 Inviting. Cozy. Comfortable.
Our rooms have a view from the window that allows you to watch the spectacular views of nature. The attached baths are clean and well-maintained. To heat up in the winter, there is a room heater as well as an efficient water heater.
Our rooms come with all necessary amenities like wifi, a water kettle, a work table, attached baths, and more. The rooms are cleaned and sanitized on a daily basis to make sure your stay is not only comfortable but meticulously clean as well.
Our Family Welcomes You
Ratna Vajra Vatika is a family-run small boutique resort nestled amidst the pine and the oak forest. It has beautifully curated and perfectly crafted cozy rooms with well-designed facilities. Blending
technology with ecology, it has an organic farm giving a constant supply of vegetables.
Unfiltered Natural Beauty
Tinchuley is a nature lover's paradise. A beautiful place in Darjeeling with lush green forests, clean, fresh air, and views to die for. It is the perfect destination for you and your family to take a break, relax, unwind and enjoy the endless, unfiltered beauty of mother nature that you can rarely find anywhere else.

A great hotel at a remote location. The rooms and the views were amazing. The hospitality is also very good. The owner and staff were very courteous. It is just... read more 5 minutes walk from the 360 degree Gumbadara view point.

The only downside was the amenities. Towels were only provided on request. The bathroom lock was broken. There were power issues but I guess that was due to the remote location. The food has opportunity for improvement. Would have been a five star rating in this review if these issues were not there.

himadrigorai


December 28, 2020

Nice resort in the lap of nature, the lush green woods surroud this beautifully crafted resort, Delicious organic food ,tea & drinks. Homely feel and taking care of every need... read more and comfort. I wish to visit again in the summers to take the pleasure of cool weather and homely presence. Thanks

dbtravelvlogs


January 15, 2020

Good place to stay. Staffs are very cooperative with good services. Food is also very good. One can visit many interesting spots from the hotel. Rooms should have tea coffee... read more maker, though electric kettle was in room but without tea/coffee and sugar sachet.

rana0608


November 27, 2021

We stayed here after leaving early from our previous place because it had problems. It was really supposed to be just a place to sleep.
We were treated... read more like honored guests. yes i will admit we probably were the only guests they had that night as Corvid had just opened things up, but anything we needed or asked was provided right away, and many of the nice things, like tea in the room came without asking( yes I suppose this is common but not for me). Dinner was excellent, Indian food. It was a beautiful place, rooms very large and easy to relax in. Though we did not sit down and eat with the family as real homestays would, we did talk about plants, culture etc.
I would seek this place out in the future. More

patriciahT6888FE


May 5, 2022

This is a off bit location at NB. Basic amenities are available, good rooms, geyser, room heater, clean towel, clean bed sheet. Sufficient blanket, rooms are cozy , good view... read more from the room. I traveled with family and friends in this month. Although it is chilling weather but we never found any difficulties to stay. We stayed for 2 nights. Foods are good however varieties are less. Overall full marks.

Subhadeep A


December 30, 2021

a family trip to this heavenly place is a must. Situated in between flora and fauna in the tinchuley village, this is the new and probably the best property therein... read more in terms of facilities and luxury. Mr Gurung arranged a bonfire for us.If lucky one can have a glance of the mighty kanchejunga while sitting on bed and sipping in a cup of Darjeeling Green Tea although we were not lucky enough to witness the same.Approach road to resort is bumpy hence Bolero/Xylo would be better.

Traventurre


March 9, 2021